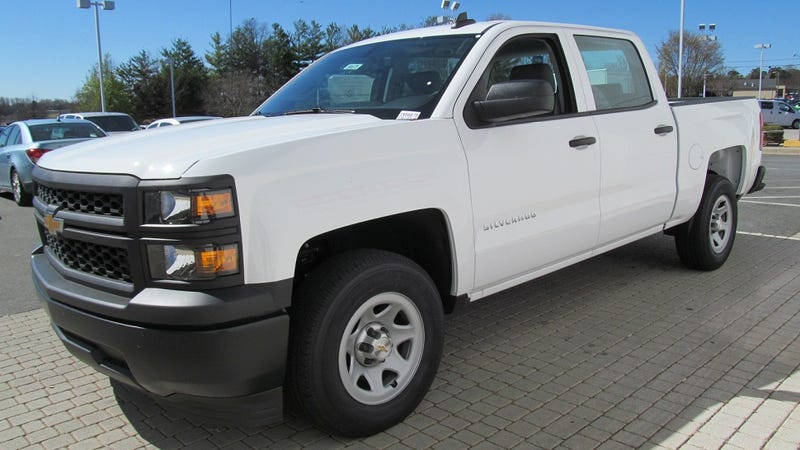 Cars and trucks are often advertised at their starting price but once you select the configuration that fits you it can add thousands to the price. You may be wondering whether a cheap truck has an actual seat or possibly a wooden stool. I recently assisted in the purchase of a truck that actually has a pretty good configuration and a V8 that was purchased for less than the advertised starting price.
The Chevrolet Silverado starts at $26,170 and theoretically this gets you a regular cab truck with a V6 and not much else. The model that we purchased is the 2015 Silverado Double Cab which officially starts at $31,390. We got some options added and paid much less. The Silverado that was purchased has a window sticker with the following options and pricing:
| | |
| --- | --- |
| MSRP and Destination | $31,390 |
| Trailering Package | $770 |
| 5.3L EcoTec3 V8 Engine | $1,095 |
| E85 FlexFuel Capable Engine | $100 |
| Integrated Trailer Brake Controller | $230 |
| Bedliner | $395 |
| Cargo Box LED Lighting | $125 |
| Total Price | $34,105 |
As you can see the truck has lots of useful features and this specific stock was selected because it would be used as true work truck. The trailering package adds a locking rear differential that is very useful. The more power motor uses just a little more fuel but add more torque and the trailer brake controller is helpful for towing. Overall, the truck is very useful for its intended purpose. The LED lights were already present on this model and not something that we specifically looked for but in the end they proved quite useful.
We approached the dealer knowing information about current incentives as well as stipulating that we would like to purchase using their credit union/supplier pricing. We started the negotiation from below the incentive price and asked them to cover the bedliner with an accessory discount. They agreed to add a $400 accessory discount to cover the bedliner and to work with us on the incentives. Once all was worked out, we ended up at a price of $26070. Here is how it all worked out.
| | |
| --- | --- |
| Total Price | $34,105 |
| Accessory Discount | -$400 |
| Custom Package Discount | -$1,700 |
| Customer Rebate | -$5,935 |
| Price After Discounts | $26,070 |
The price of the truck ended up $100 less than what a regular cab model with no options was advertised and even adding the $1040 in taxes and fees, we still ended up with an off-the-lot price of $27,110. Since modern work trucks have many of the amenities that higher models offer such as power windows, the only items that truly differentiate this truck from its higher priced siblings are the black bumpers and basic head unit. Both of these items are not an issue for a working truck but could be upgraded for a fairly low cost after the purchase.
---
You can find Bozi at The Truth About Cars, Hooniverse and Autoblog Open Road. You can also follow him on Twitter and Facebook.