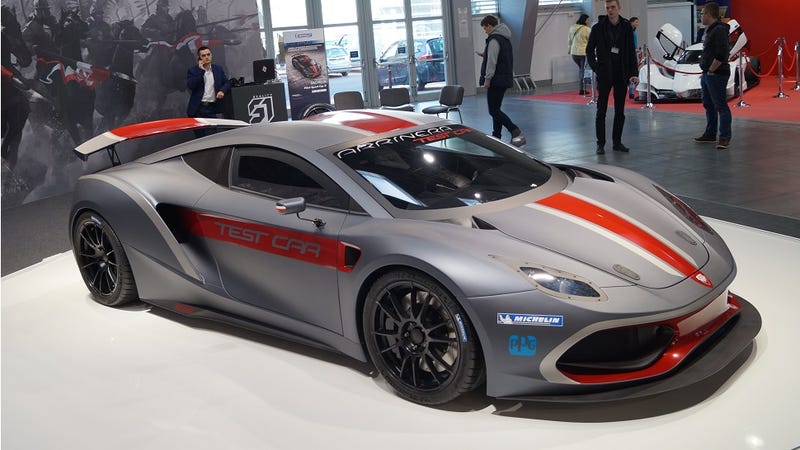 The Polish supercar maker Arrinera has shown up to the Poznan Motor Show with a working example of its Hussarya supercar. The company has been involved in some controversy and it appears that this is still a pre-production model as it is marked with "Test Car" decals.
According to company representative Lukasz Tomkiewicz, the Hussarya will use an American sourced 8.2L V8 that produces over 800 horsepower and will share a transmission with the likes of Koenigsegg and Pagani. They previously stated that they were working with GM to source a worked-over version of the LS7 engine but nobody at GM would ever confirm such a deal and it is very likely that they are buying crate engines from an aftermarket shop if any at all.
The car was slated for a late 2015 release but that has been pushed into 2016 and the price of the car has gone up to around $317,000. They state that they have decided against a carbon fiber monocoque due to the time and costs that associated but they will have heavy use of carbon fiber and Kevlar and are very proud of the fact that they will incorporate titanium nitride coating on something.
They continue to mention their association to Lee Noble as a way to legitimize their operation and have also stated that they have tested the car at speeds of up to 230 MPH but will govern the car at 211 MPH and their stated 0-62 MPH time is 3.2 seconds. The car is a lot more real than the Lyons LM2 we heard about last week but it still appears to be a kit car that may see some limited production. Here is the the video of the Polish supercar entering the Poznan Motor Show yesterday:
And their early prototype testing is below:
[Photo Credit: Wikimedia]
---
Bozi is the founder of Hoonable.com and creates articles on everything from engine swaps to late model car restorations. You can follow him on Twitter and Facebook or drop him a line at Hoonable!